Safe child while traveling: how to ensure your child's safety while driving?
In this article you will learn about the key aspects of safely transporting loads in a car, with particular emphasis on caring for the safety of the youngest travel participants - children.

When traveling, ensuring comfort and safety for young passengers becomes the priority of every parent. However, one element that is often overlooked is the proper way to transport cargo. In this context, we will learn why loose objects left on the vehicle floor pose a huge risk, especially for the youngest.
As the use of cars as a means of transport increases, ensuring the child's safety while traveling becomes a priority. A safe child while traveling means not only protection against possible accidents, but also the proper transportation of loads by car. In this article, we will look at one aspect in particular – the threats caused by objects left loose on the vehicle floor, especially in the context of the threats they may cause.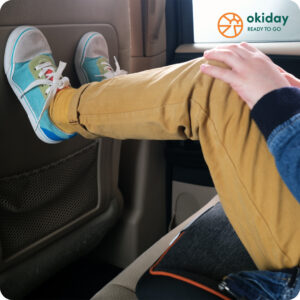 Danger of loose objects
Carrying loose items on the floor of the car is not only dangerous to the cargo itself, but also poses a risk to passengers, especially children. When braking or making a sharp turn, these objects may change their position and, in the worst case, pose a threat. For children who usually sit on the back seat. Loose items on the floor are a serious problem.
Loose objects to support your child's legs?
This is a very bad idea – we will show you a better solution
Some parents may be inclined to use loose objects on the floor as a support for their child's legs, especially if the child is not yet able to touch the floor of the car with his or her feet. However, this is a very bad idea for several reasons. First, loose objects can be dangerous in the event of sudden braking or a collision. Secondly, they do not always provide adequate support for the child's legs. They may also contribute to degeneration in the joints and the child's skeletal system, which is still developing.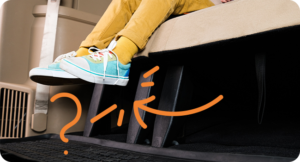 What will make your child safe while traveling?
Instead of using bags or other packages to support the child's feet, a much better solution is to use safe car footrests. In particular, it is worth considering OKIDAY footrests, which are attached to both:
– to ISOFIX points, using special hooks
– and to the vehicle floor using strong Velcro.
Why is this a solution worth considering? Ask yourself – would you be comfortable with your legs suspended in the air all the time?
OKIDAY footrests provide stable support for the child's legs, allowing him to travel comfortably. By adding a footrest to the car seat, your child can travel safely and comfortably – just like you!
Thanks to strong Velcro, these footrests remain stationary while riding and stay in place in the event of sudden braking. It is not only more convenient, but above all much safer than loose objects on the floor. Additionally, the child can stand on the footrest when getting into the seat to take a comfortable position!
A safe child while traveling – a priority for every parent
To keep your child safe while traveling, we must remember that even seemingly innocent solutions, such as loose objects on the floor of the car, may pose a real risk. In the event of braking or an accident, the weight of each object increases more than tenfold! Any unattached object behaves like a small projectile! Imagine what can happen when an apple carried in a bag hits your child in the head during an accident? That is why all purchases should be transported in the trunk of the vehicle, and to support the child's legs while driving, be sure to use footrests that have safety certificates (necessarily in accordance with the latest regulation 129.03).
OKIDAY footrests for child car seats are a very good and proven solution. They will ensure a peaceful journey for both parents and their children. For safe journeys and peace of mind for parents – let's choose solutions that guarantee maximum safety on the road.
And what do you think about it? – do you ever wonder what might happen in the event of an accident, sudden braking or vehicle rollover?
👀 Follow us on FB! – soon more interesting information about children's safety on roads and footrests for child car seats! 🚗👶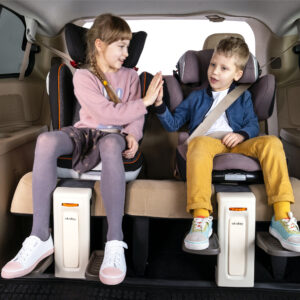 Read also other articles in which you will learn what else is worth paying attention to when purchasing a footrest for child car seats. We will reveal various facts and secrets to you 😉
You can also read about our footrests on our website, and details can be found in the description of each product